On 27 May 2021, the second seminar on "The Freight Bicycle – the Old New Car for Urban Logistics" took place.
It was organised by the Communication and Transfer Logistics Centre based at the Kazakh-German University, LogCentre.
This seminar series aims at initiating new sustainable urban logistics solutions and has three objectives:
Motivate stakeholders to initiate new urban logistics systems.
Share knowledge on urban logistics solutions and planning principles.
Demonstrate the feasibility of freight cycling as an urban logistics development solution and develop an urban logistics addendum for SUMP (Sustainable Urban Mobility Plan).
The speaker of the meeting was Tom Assmann, head of a research group at the University of Magdeburg, expert in urban logistics planning and new technologies for sustainable logistics. He is currently a consultant in urban logistics projects in Germany.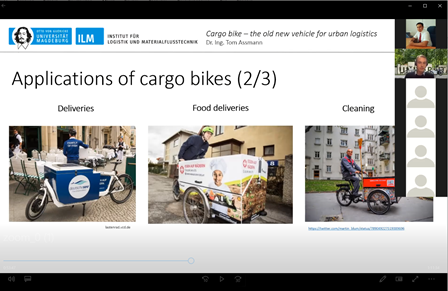 During his speech Tom talked a little about the history of cargo bikes and their types. Particular attention was paid to the possibilities to use modern cargo bikes:
dimensions and types of goods; delivery distances;
delivery distances;
transport hub systems when used;
and practical examples of use.
During the discussion, participants actively asked their questions, including the legal aspects of using this mode of transport for freight transport in Kazakhstan, which perfectly reflects the interest of local companies.
For all questions: logcentre@dku.kz